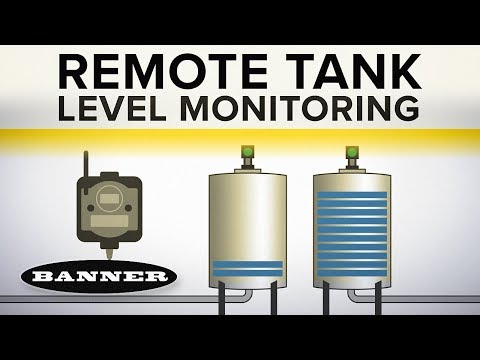 Quick Commissioning Without Costly Cable Runs
The infrastructure changes required in a wireless system are minimal, far easier, and less costly to implement than a wired system.
In a basic setup, a wireless node is connected to a measuring device, like a wireless ultrasonic sensor, and installed on the container. Each node in the network is bound to a wireless gateway or controller with an integrated gateway. Next a site survey is conducted to verify the connection between the deployed nodes and the gateway.
The system is then configured, and inspection parameters and alarm thresholds are set. A system like this can monitor many containers and can be set up in a fraction of the time and at a much lower cost than a wired system.
Improve Efficiency With Real-time Alerts
With connected devices, asset managers can easily access tank level data in real time. improving both efficiency and productivity. For example, with real time monitoring of remote containers, managers can strategically plan visits based on actual need instead of sending staff to a site based on forecasted expectations of container levels. This saves time and costs while ensuring that tanks are full and processes are running smoothly.
In addition, automated alerts can be setup to notify staff of potential issues, minimizing emergencies when a tank runs dry or overflows. A real-time remote monitoring system can alert personnel via text or email if tank levels are outside of the established thresholds, and it allows them to respond to these conditions before they become critical.
Maintain The Flexibility to Make Changes Quickly
Business needs can change over time and companies may need to add or move containers at a site to keep up with new demands. Wireless networks are versatile, scalable, and adapt easily to changing requirements. They are also flexible enough to monitor both fixed and portable assets.
With a wireless system, containers can be moved as often as needed without altering the system or disconnecting the measuring device, which means containers can be monitored even while in transit. New nodes from new containers can be integrated into the existing network, or a new network can be deployed to accommodate a new group of tanks without the time and labor commitments of altering a wired network.