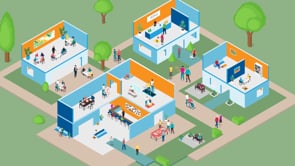 As senior living increasingly focuses on resident independence, the industry needs innovative ways to manage wander risks, reduce contagion outbreaks and respond to emergencies. TruView™ addresses these needs by increasing visibility to resident location through accurate technology. At an economical price, TruView includes advanced features specifically designed for senior living communities to improve the standard of care.

Advanced Wireless Emergency Call System
In the case of an emergency, TruView™ has sophisticated location awareness for faster response. The system provides residents' and staff members' exact locations in real-time. As a result, staff members know where to find residents and coworkers during an emergency. When an emergency alert triggers, it notifies staff through a mobile care application on their devices.
TruLocation™ – Definitive Location Information
Advanced infrared technology powers the location information features of TruView™. CenTrak utilizes advanced infrared technology and Active UHF radio frequency identification (RFID) devices for real-time tracking. TruView™ provides certainty-based location data that covers rooms, hallway segments, and other areas. It can determine TruLocation™ both indoors and outdoors for maximum accuracy.
Comprehensive Features for Care Management
Senior care communities can leverage accurate, customizable location technology to manage wandering and improve emergency response times. TruView™ handles the following aspects of residential senior care:
Emergency call: Every second counts in an emergency. TruView™ emergency alert devices notify staff when a resident requests help with information on exactly where the event is taking place.
Staff assist: A wireless call system for assisted living and other senior care communities allows staff to request assistance when needed. Precise location information lets other staff members know exactly where to go to provide assistance.
Wander management: Manage resident wandering through location tracking and individual system settings. Set off-limits areas and customize location settings based on the resident's wandering risk. Wander alarms trigger an alert when a resident begins to stray beyond campus-safe boundaries.
Peace of Mind for Seniors, Families and Caregivers
Everyone involved in a resident's care can benefit from the robust features of TruView™. Seniors gain a sense of security knowing that staff can find them during an emergency. Family communication is greatly improved with clear documentation and reporting. Senior living communities can rest assured that residents stay safe and are well cared for.
Technology