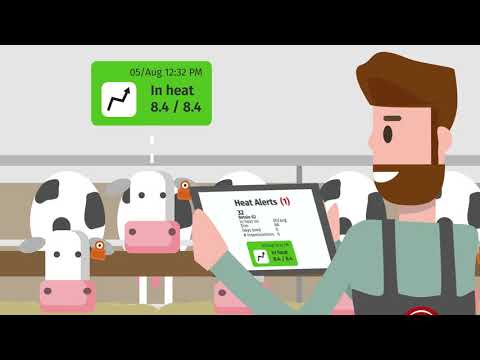 CowManager makes your life easier. How? Simple. With a proven combination of sensor, router and software, combined with dairy experience and years of research, testing and development. Through regular updates to both hardware and software, CowManager is always equipped with the latest developments.
Simplicity – The ear sensor
CowManager is a revolutionary ear sensor technology for dairy farmers. It provides accurate information about your herd's fertility, health, nutritional status and their location. It's easy to install too: there is no need to recharge batteries or change collars. The sensor device fits around an "840", or official animal identification RFID tag; both can be placed in your cow's ear in a single action.
Effective attachment mechanism ensures that the sensor remains firmly in place
Culling a cow? Simply remove the sensor and attach it to the tag of another cow
Accurate – The data
CowManager is a complete plug-and-play system that is compatible with your farm management system. The data transmitted by the sensors is collected by routers. These routers can be installed inside or outside. When there is no power connection available, e.g. in feed lots or pastures, CowManager provides solar panels to be able to monitor your cows 24/7. A coordinating device connected to your computer ensures optimal data flow.
Extremely accurate data
7 days internal data storage
Optimal data flow offering a clear, comprehensive overview of your herd's wellbeing
Real time – Smartphone or computer
CowManager monitors your herd 24/7 in any situation, regardless of farm size. It's the ultimate tool for continuously monitoring your cows' fertility, health, nutrition and location, receiving real-time information on your smartphone and/or other devices. Through updates every 8 weeks to the pc-application and mobile app, CowManager is always equipped with the latest developments.
Suitable for all farm and herd sizes
Available for iOS and Android
MultiView functionality allows you to give important parties, such as your herdsman, the vet and researchers access to selected data
Easy connect – Integration
CowManager integrates for free with many herd management systems all over the world. The system uses the data to ensure more detailed alerts about a cows' health, fertility and nutrition status. Some herd management systems have a two way interface with CowManager, which gives dairy farmers the opportunity to see cow data simultaneously in both systems, 24/7. All information from both systems is considered when calculating alerts about a cow's performance. These individual cow alerts can drive sorting gates.
Saving time; one single point of data entry
More information means more detailed alerts and an overall better-informed decision process.
Integrates for free with many herd management systems, including start-up costs and maintenance costs.
Applications