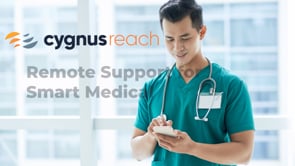 "The number of patients using connected medical devices has grown by 44% each year." Supporting these smart medical devices is critical for doctors and patients because failure is not an option when it comes to healthcare. End-users need quick support and don't have time for long, frustrating calls with your support team. Having a solution that supports your product is invaluable.
Wearable Fitness Trackers
Smart Health Watches
Wearable ECG Monitors
Wearable Blood Pressure Monitors
Wearable Smart Asthma Monitoring
AI-Powered Insulin Pumps
Smart Drill
Cyber Security
Many More
CUSTOMERS OF REACH℠ HAVE EXPERIENCED*
• 90% Decrease in Call Times
• 75% Reduction in Technician Visits
• 75% Fewer Product Returns
• Improved App and Product Ratings
How Reach Works: Cygnus Reach is a remote support solution that allows you to see and interact with real-time device data, even without Wi-Fi or cellular connection on the device. Our patented technology authorizes a connection via Bluetooth proxy running on a mobile phone.
All you need is for the user to be in proximity of the device or equipment. The Reach solution can better connect, diagnose, and troubleshoot nearly any IoT product.
Connectivity: Reach works in almost any environment and practically any wireless product, securely and with data privacy built-in from the ground up.
Ease of use Technology: Your customer simply opens your app and connects using the Reachsm integration. That's it. Your support rep now can fix the issue remotely in real-time without the customer's help.
Simple, quick support: Call times are cut by 90%. No more long, frustrating calls wasting your time and money, Reachsm helps support reps take more calls in less time, helping more customers, decreasing call abandonment and technician visits.
How It Works
1. Client Enables Remote Support
Your customer requests a support session using their mobile phone with your mobile app to connect with a customer support representative to initiate the Reach℠ support session.
Reach℠ can support any device that can accept incoming communications of some kind. Common communication protocols include Bluetooth, Bluetooth Low Energy, local WiFi, USB, ect. A mobile app or desktop with Reach℠ may be customized for any kind of communication.
Today, Reach℠ SDKs are provided in TypeScript/JavaScript, Kotlin, and Swift and can be integrated into your already-existing device interaction code. If you need an SDK for a different language, contact us.
2. Secure Connection
Before a customer support agent is allowed to connect, a unique PIN number is shared to ensure the highest level of security and privacy.
Reach maintains the highest level of security by encrypting traffic during transport. No data is stored on Reach servers
The customer is required to stay in proximity of the smart medical device with their mobile or desktop application to ensure that they have physical access to the device at all times.
3. Customer Support Agent
Once the technician is allowed access, a two-way communication channel is created between the technician and the customer.
4. Diagnose & Restore
The technician leverages the Reach℠ communication functionality to get and set information on the smart medical device, without the need for customer interaction.
The customer can sit back and relax while the technician works, without the typical back-and-forth that is often required to identify the technical details that are affecting the customer's device.
Instead, the technician has access to all of the technical details of the device via the web-to-mobile and mobile-to-device communication channels.
Things like:
• Logs
• Firmware updates
• Device controls and configuration
• Event logs
5. Seamless Customer Interaction
Reach℠ is designed to interact seamlessly with a mobile or web app's UI. UI elements can react to changes in both the device's connection status and the device's state via callbacks, which keeps the customer in the loop about what's happening on their smart medical device. Reach℠ supports chat messages that include text, photos, and videos to help the customer and technician diagnose the issue.
Technicians can perform customer support for customers despite language barriers. Once the technician has access to the device, the customer likely does not need to be involved in the process of updating the device. In order to gain access, the customer only needs to enter a pin number into their mobile app; this is often possible despite language barriers, giving the technician access to the information they need.
If the internet connection between the customer support technician and the customer drops, Reach℠ will automatically reconnect the session when an internet connection is restored and the support session will pick up where it left off. All data transfer is paused on disconnect and resumed on reconnect, ensuring that frequent drops due to poor internet connections don't prevent customers from getting their devices fixed.
The most common customer support requests are for connectivity issues. Reach℠ can sidestep the issue where technicians are unable to connect to the device remotely due to the customer's device connectivity issues because, rather than connecting to the device, the technician can connect to the customer's mobile device, which can, in turn, connect to the device over LAN or BLE technology. This provides better remote access to devices for technicians.

Schedule your demo today. Give your customers a superior Reach experience. CygnusReach.com
Applications