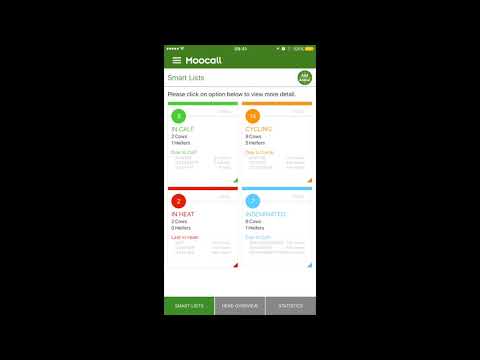 Breedmanager is our free herd and breeding management app. We help you organise your herd showing you the information you want, when you want it. Track the breeding status of each of your cows and heifers using our Smart Lists.
Moocall HEAT is a collar that is worn by a stock or a teaser / vasectomised bull. Moocall eartags are attached to all cows and heifers. The collar then uses cow/bull proximity, mounting behaviour and bull activity levels to determine to an extremely high level of accuracy when a cow or a heifer is in heat. There is also an alternative option for a vasectomised bull50 RFID Moocall Eartags.
Features
To give you the information you need, we use Smart Lists. We divide your herd into manageable subsets, based on what stage of the breeding lifecycle that animal is at – we split your herd into:
In Calf
Cycling
In-Heat
Inseminated
Ask the Community
The app also features a great community module. This is an area where Breedmanager by Moocall users can share pictures, ask questions and generally see how our customers from all over the world are farming. If you like pictures of cows, you will love it!
My Moocall
Purchasing a Moocall device gives you access to 'MyMoocall'. This is where you can manage your devices. From the app, you can access most features. You can change the associated phone numbers, see your battery levels & see what alerts have been sent.