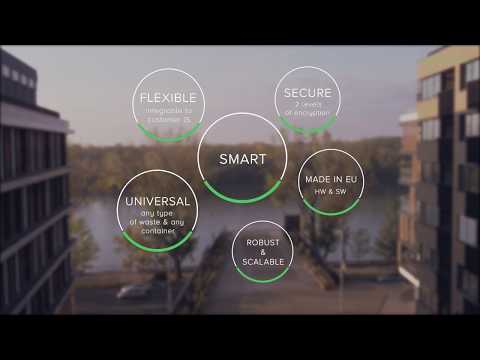 Manage waste smarter with Sensoneo Sensors and powerful cloud-based platform
Waste monitoring solution
Sensoneo provides smart enterprise-grade waste management solutions for cities and businesses to cost-efficiently manage the waste lifecycle and improve the environment and well-being of people. Through its unique smart waste management technology, Sensoneo is redefining the way waste is managed.
Sensoneo Waste Monitoring solution allows cities and businesses to uncover and finally understand the complex dynamics of their waste production.
Waste Monitoring solution combines Smart Sensors, Smart Waste Management System and Citizen App. The Smart Sensors use ultrasound technology to measure the fill levels in bins and containers several times a day and send the data to the Smart Waste Management System, a powerful cloud-based platform, via the Internet of Things (Sigfox, NB-IoT, LoRaWAN, GPRS) providing cities and businesses with data-driven decision making, and optimization of waste collection routes, frequencies and vehicle loads, bin distribution resulting in overall waste collection cost reduction by at least 30% and carbon emission reduction up to 60% in cities.
Sensoneo Smart Sensors
Sensoneo Smart sensors measure fill-levels in bins via ultrasonic beams. Our sensors can monitor any type of waste (mixed waste, paper, plastics, glass, clothing, bio-waste, liquids, electronics, metal….) in bins and containers of various types and sizes. Sensoneo's solution is a result of in-house R&D.
We design, develop and produce the sensors and all software in-house and we are proud of it. 
Smart Waste Management System
The powerful cloud-based platform enables the customer to configure, monitor and manage daily waste management. In addition, to live data from Waste monitoring, the tool can also hold complex bin database, plan the optimal collection routes, predict filling cycles, and manage reports from employees and citizens. The solution is hosted in the Microsoft Azure cloud. 
Citizen app
Citizens app provides access to data from Smart Sensors to citizens. The mobile app informs about the location and fill level of monitored bins and enables you to find the nearest available bin or report an issue. Logged users can access even more information about the bins, request a pickup or maintenance. Available for free on Android and iOS.