BuiltWorlds Buildings 2.0 conference has quickly become a collaborative center for forward-thinking professionals in Chicago's architecture, engineering, construction, and building management industry. The open dialogue on all things "Smart Buildings"—fostered by the forums and coordinated networking events—is distinct from any event across the country. Below is my BuiltWorlds buildings 2.0 conference recap, focusing on the three big takeaways.
1) The "occupant experience" wave is changing everything
Kurt Karnatz, a long-time industry veteran and president of ESD, rightly admitted that occupant experience was never a major part of the engineering conversation. Engineers design building systems for energy efficiency, reliability, sustainability, and other metrics but have yet to include occupant experience.
But why consider occupant experience? Why change what's worked in the past? How do you design/construct/operate building systems (HVAC, lighting, security, etc) for a better occupant experience? Those are the open-ended questions everyone came to talk about.
Scott Seyer, Principal with Goettsch Partners, predicted that Smart Buildings will become the standard language of design, and buildings will need to be designed to allow for system integration with its users.
But how can you create a valuable interaction between the occupant and the inner workings of a building? It's a complicated question and one that requires vision. Which brings up takeaway number two in my BuiltWorlds buildings 2.0 conference recap.
2) Architects and planners need help
It's hard to innovate. Imagine you are designing a building and want to make it "Smart" by specifying an app that allows tenants to control the temperature and lighting in their space with their phone. How do you do it? Well, there are 3,000+ different software/hardware companies in the smart building space so good luck finding, evaluating, and specifying the right one for you and your budget.
The decision makers that plan buildings need help. The collaborative function of this conference is a start but much more needs to be done to increase technology adoption and drive innovation. The value proposition to the owner could be much clearer. How does a better occupant experience make the building owner/tenant/operator more money?
At the end of the day, architects and engineers need to understand the tech enough to explain how much money they will save (or make) by improving occupant experience through it. Matt Gray, the co-founder of BuiltWorlds and co-chairman of Graycor, dropped some inside knowledge: of all the folks that visit their website, architects are some of the least engaged. That needs to change.
[bctt tweet="At the end of the day, architects and engineers need to understand the smart tech. enough to explain how much money they will save (or make) by improving occupant experience through it. " username="iotforall"]
3) There's a renaissance in the construction industry
Despite all the obstacles, this conference showcased a lot of examples of highly innovative companies implementing creative solutions. My BuiltWorlds buildings 2.0 conference recap would be incomplete without mentioning Neil Lakomiak's words. He's the Director of Business Development and Innovation at UL, and he said it best: "The tech is there. We are going through a renaissance in construction through a stronger ecosystem." Here's a short list of examples of how strong that ecosystem is.
75F – Disregard a major industry standard (BACnet)? Check. Create a product that directly competes with Siemens, Honeywell, Johnson Controls, and countless others? Check. Sure, their suite of products fit squarely in the disruptor category, but they pass the simple thought experiment: If you were to redesign HVAC control from scratch, how would you do it? Simple installation with minimal configuration? Cloud-based interface? All things 75F does that its competition doesn't.
Flo – This is a built environment hardware without much competition, which is rare. A flowmeter, pressure sensor, and shutoff valve installed at the domestic water inlet pipe to your home that can detect leaks and automatically shut off the water. Also, it connects to the cloud and puts it all on your phone. Insurance companies that have watched the IoT market from the sidelines will likely have to reconsider their strategy.
The explosion of high rise construction in Chicago was not lost on the companies creating software to create better occupant experiences in large residential buildings. Damon Ranieri, Senior BIM Integration Manager at Lendlease, posed an interesting question to a panel of founders: What is the most interesting insight you uncovered from the data generated by your company?
Homebase.ai – Blake Miller, CEO, found that small business landlords could manage more properties after installing their platform and smart apartment tech. Homebase.ai is installed in over 6,000 units and their app gets used by virtually every tenant, every day. Providing basic home automation, such as keyless entry, and providing the ability for the landlord to provision apartments, drastically simplifies property management.
Doorbell.me – Ben Pleat, the CEO, found that high turnover buildings have the best amenities, and occupant contentment correlates with usership of amenities (not necessarily what they are). Doorbell.me is a platform that fosters meaningful interaction between tenants to build communities out of large apartment buildings.
OurHood – Anthony Knierium, CEO, found that app users will provide a significant amount of useful qualitative data if you simply give them the option to. This qualitative data can be extremely useful for informing architectural programming or community planning
The amount of companies applying analytics to building operational data (HVAC and energy usage) has skyrocketed in recent years. Some speakers at the conference included Enertiv, Site 1001, and Facilio, while ICONICS held a booth.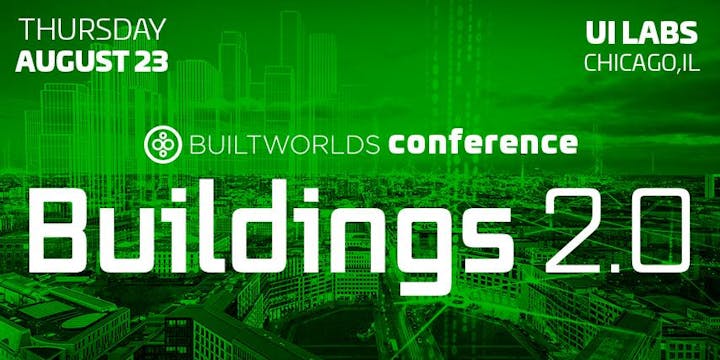 The conference's growth within Chicago and across the country appears certain based on the overwhelmingly positive response. Where previously there was a lack of community or space for dialogue, BuiltWorlds appears to be meeting the need. I hope that my BuiltWorlds buildings 2.0 conference recap left you with some food for thought on these exciting and challenging trends steering the built structures of the future. For further reading on smart buildings and innovation, read this piece I wrote earlier this year for IoT for All.