Compamedia

acknowledges Berlin-based IoT communication platform

provider

EMnify

for its

stand-out

innovation-led success and growth

Top 100 selection process is based on methodological screening

by

scientif

ic

director

Prof. Dr. Nikolaus Franke

and his team



BERLIN, Feb. 05, 2021 – Leading communication platform provider for IoT EMnify, today announced it has made compamedia's 2021 Top 100 Top Innovator list. The prestigious list, now in its 28th year, honors medium-sized businesses for their proven commitment to and demonstration of successful innovation. EMnify demonstrated its innovative strength in a methodological pre-selection process.
The selection process
Top 100's scientific director Prof. Dr. Nikolaus Franke – also founder and director of the Institute for Entrepreneurship and Innovation at the Vienna University of Economics and Business – examined EMnify's innovative strength together with his team of researchers.
EMnify was assessed based on 120 test criteria across five categories. Criteria included whether management promoted innovation, whether the work environment allowed for innovation, a demonstration of innovative processes and organization, and proven success of innovative solutions. The underlining decision was based on whether innovative solutions are the result of a planned approach or a product of chance, and whether solutions succeed on the current market. This year's Top 100 assessment also called for a unique additional section: entrepreneurial reaction to the coronavirus.
Enabling worldwide innovation
EMnify has a long-standing commitment to innovation, stemming from the very start of the business, which not only disrupted the telecommunications market but also delivered a solution that enables innovation in businesses of all sizes.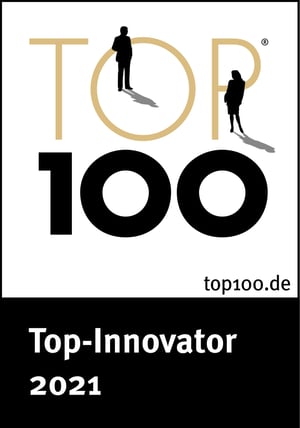 EMnify provides a cloud communication platform for IoT, enabling digital-native companies with high growth IoT products to scale across networks worldwide with a single API. Customers can rely on secure, fast and reliable device communication, and quick and easy cloud-stack and application integration. Its solution enables entrepreneurs and developers around the world to develop and scale innovative business models quickly and flexibly.
"EMnify's founding and growth to date have been based on innovation-led, customer-centric decision-making: we innovate to ensure that our customers can continue to innovate. Today, we're transforming complex cellular connectivity into an easy to consume cloud offering by bringing the proven superior philosophies of CPaaS and Cloud-Native SaaS to IoT. This makes us the vendor of choice for digital native companies. Being featured in the Top 100 validates our commitment to continuous transformative innovation in the name of progress."

Frank Stöcker, EMnify Co-Founder and CEO
Compamedia has been awarding the prestigious Top 100 seal to medium-sized companies in Germany that demonstrate exceptional commitment to innovation since 1993. Recognized science journalist Ranga Yogeshwar has been mentoring the innovation competition for ten years.
Prof. Dr. Nikolaus Franke, the scientific director of TOP 100, congratulates this year's award-winning innovative companies: "The TOP 100 companies have consistently oriented themselves towards being as innovative as possible," he commented.
On November 26th, all 2021 Top 100 award winners will come together in Stuttgart to celebrate their achievement and be congratulated by Ranga Yogeshwar, Top 100 mentor, at the 7th German SME Summit in Ludwigsburg.