The term Internet of Things has evolved to encompass a very broad range of services and solutions; we are now at the point where the word 'connectivity' is almost synonymous with the goals of IoT. However, when you think of IoT, you'll likely revert to an established IoT sector––automotive, retail, and transportation, are key examples. Given the meteoric rise of IoT connectivity to connect everything, even outside of these broad categories, where will the market turn to continue its growth? The answer is System Integrators.
The Emergence of IoT System Integrators
We are seeing System Integrators play an increasingly important role in the provision of IoT services in many use-cases. These IoT segments can be described as industries or markets which can benefit from the adoption of IoT connectivity and combine to create a substantial base of potential devices.
As a result, Mobile Network Operators tend to not prioritize these segments when looking at the development of IoT products. These applications require custom IT integrations, which for most MNOs cannot be justified. However, System Integrators are capable of enabling and serving the customer, technically in a way which is commercially feasible.
Does this sound familiar? The rise of MVNOs had the same basis to enter the market, the ability to acquire and service the customer more effectively than incumbents MNOs.
Aggregating the Value of IoT
When you look at these IoT areas individually, there is a noticeable lack of interest from larger service providers. How can markets such as smart energy, connected health, Private LTE, or immersive reality provide any significant return on investment to Mobile Network Operators, especially given their requirements for customized solutions?
IoT networks and services are extremely complex, which can be a daunting prospect for lighter end users, as connectivity is often out of their core capabilities and expertise. However, the benefits of IoT services can draw interest in players, despite their perceived inability to roll out the services themselves.
But what is the extent of the opportunity for these IoT verticals? The answer is wholly dependent on the number of devices that will benefit from being connected. Anyone can list out industries that will benefit from bespoke IoT solutions, but it would be a rather tedious list. The bottom line is simple; there are massive opportunities in these IoT verticals, but Mobile Network Operators will tend to focus on established sources of demand.
This scenario benefits the IoT System Integrators to a substantial degree. While the potential for IoT service revenues in each of these areas may be individually quite small, the aggregation of potential among these areas is substantial, this coupled with the power for scale and flexibility that virtualized network equipment brings a whole new dimension to the cellular IoT market. The acquisition of Affirmed by Microsoft for $1.35B and Ericsson's purchase of Cradlepoint for $1.1B further validates that innovative solutions for connectivity create massive value.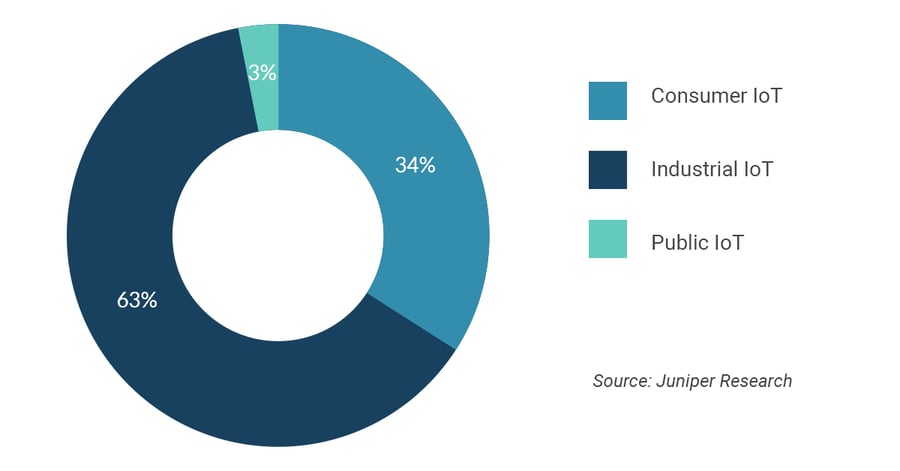 Juniper Research expects the industrial sector to comprise 63% of the IoT market next year. Within 4 years, the industrial sector is expected to account for over 70% of the Internet of Things. This will be the highest growing sector for IoT during this period, owing partly to the rapid expansion of Applications.
Within the industrial sector, we're seeing innovation at all levels of the IoT, increasing the number of services on offer to IoT end-users. Established IoT service providers have become specialists in certain industries, like Tata Communications in automotive and Speedcast in maritime.
However, these are large sectors that are anticipated to account for substantial proportions of the IoT in the future, given the early adoption and the substantial user bases. We have already seen that IoT System Integrators are not going to take this approach. They will be best positioned to capitalize on the aggregate potential of these applications.
Lessons to Learn from the Telecommunications Industry
This situation is reminiscent of the state of the telecommunications industry back in the early 2000s. Tier 1 MNOs were faced with a high level of saturation amongst core addressable users, and the cost to get the last remaining consumers onboard was substantial. Operators weren't targeting these users as they didn't see any clear return on investment.
These opportunities were seized upon by a new category of Mobile Network Operator; the MVNO, or Mobile Virtual Network Operator. These players offer mobile network services to end-users, and often develop their customer support, brand marketing, and distribution channels. Rather than owning or operating their network towers, they rely on partnerships with Mobile Network Operators for service provision.
History is repeating itself in the IoT market; the established Mobile Network Operators do not see a clear route to securing a return on any investment into these industry-specific IoT areas. This is similar to how established MNOs did not see a clear return on investment in acquiring the edge of the addressable base of potential users back in the early 2000s.
As with the MVNOs before, the IoT System Integrators are considerably more adept at serving these industries with connectivity by modifying the services developed by established IoT platforms and incorporating them into existing operations. By becoming hyper-focused on specific Applications, System Integrators will be key to growing the IoT market beyond the established scenarios we can see today.